The 20 Education Terms You Need to Know When Choosing a School for Your Child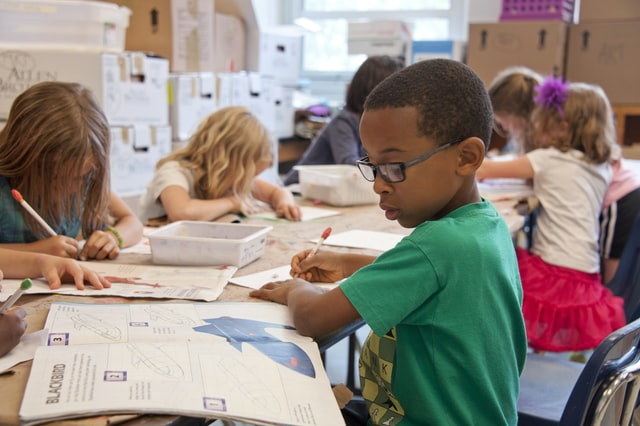 We've all been that parent nodding along knowingly as a school staff member speaks at great length about the school's Whole Child approach to SEL and commitment to restorative justice, or how being a progressive school with a STEM focus sets them apart from their peers. Secretly, we're  thinking to ourselves, "What do those words actually mean? Is there such a thing as a Half Child approach?"

The education world is notorious for adopting buzz words and lengthy acronyms and using them casually as if the average non-educator knows exactly what they mean. As parents, it can feel intimidating to ask for clarification. You don't want to seem like you aren't up to date on current trends in education, so it's often easier to just pretend like you understand and do a private Google search later. 
There's no reason industry jargon should be a mystery to parents. As key stakeholders in the education of children, parents can, and should, be empowered to know the important vocabulary. Here are 20 of the most common education terms you need to know when choosing a school for your child.
1. Charter School
Charter schools are publicly-funded, privately-run schools. They are partially funded by government money, however they retain autonomy to operate independently of the state education system, county education offices, and local school districts. Charter schools are open to all students and do not charge tuition. Charter schools operate under a written contract (charter) with a state or district.
2. Cooperative / Co-op
At a cooperative school, parents, teachers, and administrators work together to educate children. In many co-ops, parents are required to regularly spend time in their child's classroom, under the guidance of school faculty members, to help with leading activities and supervising children. Parents are closely involved with other aspects of school operation, such as administration, maintenance, and governance. Generally, tuition at co-ops tends to be lower than at traditional schools due to the heavy parent involvement. 
3. Green School
To earn designation as a Green School, the school must meet certain benchmarks in three key areas: Reduce environmental impact and costs, Improve occupants' health & performance, and Increase sustainability literacy.
4. Independent School
All independent schools are private, but not all private schools are independent. Independent schools are governed by a board of trustees, not a public school board. They are primarily funded by tuition payments, charitable contributions, and endowment revenue. Independent school teachers have the freedom to design curriculum based on their students' needs and interests and are not beholden to state mandates on curriculum, textbooks, and testing.
5. Montessori
Montessori is an educational approach that emphasizes child-centered curriculum and child-led activities that encourage independence and promote real-world skills. Hallmarks of a Montessori school include: multi-age classrooms, a variety of independent activities ("work") for children to choose from and complete at their own pace, teachers moving around the classroom and engaging with students individually rather than addressing the whole class at once, natural materials and abundant natural light, and a focus on the whole child.
6. Parochial School
Parochial schools are private schools affiliated with a religious entity (often a church). The most common example is Catholic schools. The religious entity supports the school financially, and religious education is part of the curriculum of the school.
7. Language Immersion / Dual-Language Immersion
In a language immersion program, students will spend a portion (usually at least 50%, and up to 90%) of their school day being instructed in a target (non-English) language, such as Spanish or Mandarin.
8. Reggio Emilia
The Reggio Emilia Approach is officially defined as "an educational philosophy based on the image of a child with strong potential for development and a subject with rights, who learns through the hundred languages belonging to all human beings, and grows in relations with others." Reggio Emilia classrooms are student-centered and emphasize self-directed, experiential learning that allows children to develop their own personality. Children are given frequent opportunities for self-expression through the "hundred languages" such as painting, dramatic play, and singing.
9. Waldorf
The Waldorf educational approach emphasizes developmentally-appropriate, experiential, and holistic education, with the goal of inspiring life-long learners whose unique capacities are fully developed. Notable elements of a Waldorf education include: the arts integrated across all subjects and disciplines, limited media exposure until high school (no computers or digital tech), teachers loop with a class for 5-8 years, and holistic narrative assessments rather than traditional grades.
10. Pre-Kindergarten / Pre-K
While some schools use the terms "preschool" and "pre-kindergarten" interchangeably, preschool is technically for children ages 2-4, while pre-kindergarten programs tend to serve older students in the 4-5 age range. The focus of a Pre-K program is on Kindergarten-readiness, and students can expect to engage in more advanced learning and skill building.
11. Transitional Kindergarten / TK
Transitional Kindergarten is a program for children who miss the age cut-off for entering Kindergarten but are too old for another year of preschool. In California, children must turn five years old by September 1 of the school year to enroll in public Kindergarten. TK is offered at California public elementary schools for any child who turns five years old between September 2 and December 2 of the school year. Some non-public (independent, parochial, etc.) schools also offer TK programs.
12. Learning Differences
Students with learning differences learn differently than others do. This may include children with a diagnosed Specific Learning Disability such as dyslexia or dysgraphia, and it also includes children with challenges in the area of attention, organization, and behavior. Examples of other learning differences might include Attention Deficit Disorder (ADD), Sensory Processing Disorder (SPD), Executive Function Disorder (EFD), or Obsessive Compulsive Disorder (OCD).
13. Learning Services
Learning Services refers to the staff members and support systems a school has in place to support students with learning differences and/or special needs. Members of the Learning Services team may include Learning Specialists, Speech Therapists, Occupational Therapists, and Counselors.
14. Special Needs
A child with special needs requires assistance for medical (physical), mental, or psychological disabilities. Examples include children with autism and children in wheelchairs.
15. Project Based Learning (PBL)
Project Based Learning is a way for students to learn about a topic by exploring a real-world question or problem, often about an issue that is personally meaningful or relevant to them. Students spend an extended period of time (weeks or even months) exploring and attempting to find an answer or solution across multiple subjects and disciplines. Projects end with a public presentation or display of knowledge.
16. Social Emotional Learning (SEL)
SEL teaches children how to recognize and manage emotions and how to be in relationship with others. Self-regulation, empathy, and responsible decision-making are important themes of most SEL programs. Many schools explicitly teach SEL skills through a dedicated curriculum which provides explicit instruction and opportunities to practice SEL skills and habits.
17. Social Justice
Schools that emphasize social justice actively teach their students about diversity, identity, and justice, and how to take individual and collective action to promote equity for all. Current events are regularly woven into the curriculum and used as a springboard for units of study, service projects, community events, and more.
18. STEM
STEM Education refers to Science, Technology, Engineering, and Math. Other variations of this acronym include STEAM (A=Arts) and STREAM (R=Reading and Writing). All schools incorporate STEM to an extent, but some schools place a particular emphasis on STEM subjects and may have a Maker Lab, science labs, design studios, or other dedicated spaces devoted to these pursuits.
19. Whole Child
A Whole Child educational approach attends to all the needs of a child, rather than just academics. Social skills, physical and emotional health, learning needs, and more are all nurtured and tended to by teachers and school staff.
20. Progressive
Schools that identify as progressive often share some of the following characteristics: a commitment to social justice, a focus on the whole child, promoting a love of learning, teaching children to be engaged and active citizens, honoring student voice and choice, using developmentally appropriate curriculum and teaching methods, and fostering strong and collaborative interpersonal relationships.
Want 1-on-1 coaching with Natalie?
Get personalized 1-on-1 coaching through the entire school selection and admissions process, catered to your child's unique qualities and your family's goals. Click below to schedule a free, no-commitment 30 minute consultation!