How to Make Sense of School Rankings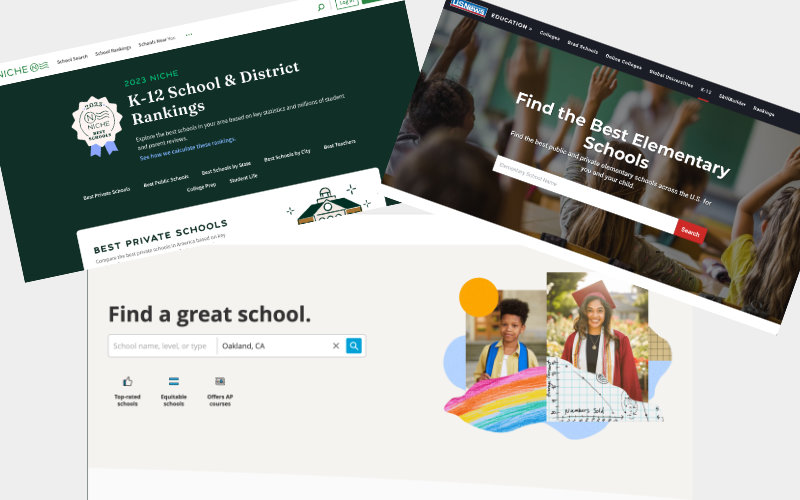 When you search for a particular school online, one of the first things you'll see in the search results is the school's rankings on Great Schools, Niche, or U.S. News and World Reports. 
While these types of sites can provide helpful information, I always caution folks to take what they read here with a grain of salt. 
Here are my top 5 tips for how to make sense of school rankings: 
1. Focus on your child and family.
Think about your family's values and the things that are really important for your child, like having a close relationship with teachers or being in a diverse student group. Use these factors as the filters through which you view rankings and school data. If you identified class size as a critical factor, that is an area you'll want to pay special attention to when reading school profiles. If the average teacher tenure is something you are neutral on, you can probably just skim that section rather than reading it in depth.
2. Remember that test scores are just ONE data point.
Standardized test performance often does not tell the whole story about a school. Test scores and overall academic performance tend to get a lot of attention and are disproportionately used to rank schools in terms of which schools are "best" or "worst." If you dig a little deeper into test score data, though, you will likely find that the truth is much more complex– for example, there are often deep disparities in performance across demographic groups. If academic performance is critical for you, it's worth looking into how a school has historically performed, but don't let it be the only factor you use to determine whether a school is "good" or not. 
3. Pay attention to dates.
Much of the data and reviews that are posted online are outdated and may now be irrelevant or at least very biased by particular circumstances at the time, such as the COVID19 pandemic, distance learning, etc. Whenever possible, try to look at up-to-date information to get the most accurate snapshot of what's happening with a school right now. Objective data sources like The California Schools Dashboard and School Accountability Report Cards (SARC) provide another source of facts and statistics about California public schools that may be more current. 
4. Read parent reviews with an open mind.
Remember that people who post reviews tend to feel very strongly in one direction or another– they usually either really love the school or really hate it. So you probably will not get a super balanced perspective on a school by just reading parent reviews. Look for trends or patterns that appear in multiple reviews rather than one-off experiences from a single disgruntled parent.
5. Combine data with first-hand experiences.
The best way to learn about a school is to visit in person. Go on tours, attend open houses, talk with school staff, and connect with current or former parents whenever possible. There is tremendous value in visiting a wide range of schools, even ones you end up not liking, because it gives you context and a frame of reference for comparing and contrasting schools.
Unsure where to start with the school selection and admissions process?
Get personalized 1-on-1 coaching through the entire school selection and admissions process, catered to your child's unique qualities and your family's goals. Click below to schedule a free, no-commitment 30 minute consultation!